From the simple crayon drawings of Sweetie Pie (2 yr. old) to the sophisticated acrylic paintings of Me (ageless), art has played a huge role in our recovery and discovery. Some of the art is horrific, offset by some incredibly beautiful works. All of it tells part of the story of my life.
Church Candles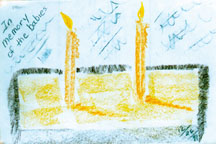 We went to a church and lit candles in memory of all the babies who died at the hands of the cult.
"Blob Baby"
This is a drawing of "Blob Baby." She was my baby. I was made to sacrifice her at the age of 13.
"The Grinder"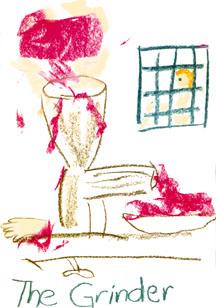 The Grinder was used by cult members to grind up animal and human parts for feeding the group.

Some of my alters drew Father as part Marine, part rapist...both terrifying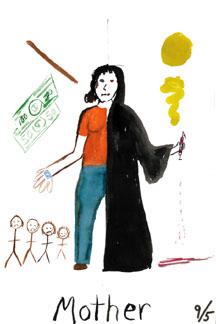 Mother is seen by some alters to be half cold, mean, disciplinarian and half cult member.
"Sex ring crime is a term describing sexual victimization in which there are one or more adult offenders and several children who are aware of each other's participation. There are three different types...Solo, Transition and Syndicated." To obtain this information contact the National Center for Missing and Exploited Children.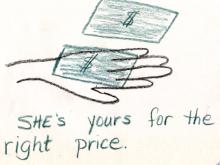 "She's yours for the right price." Money exchanged hands for my services.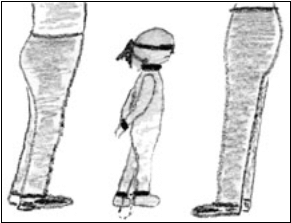 Age 5, being passed for money to another Marine.