Photos tell a story without words. Sometimes the photos tell me what happened when I don't remember.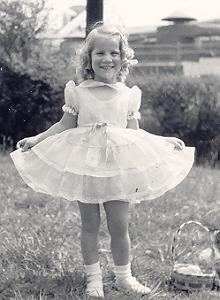 Two years old on Easter at the Marine Corps base in Barstow, California.
By looking at these pictures, you can learn so much about the kind of child I was groomed to be. As an adult, I am learning to discern what my parents programmed into me and what I now believe to be the essence of me. This is such a long process that I often get discouraged. The programming was so extensive and painful, that it is taking a tremendous amount of patience to go through the emotional grief that my parents left on my psyche.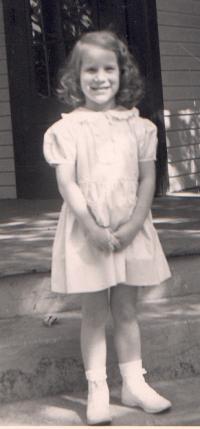 Four years old on the steps of our house in Lima, Ohio. My parents demanded smiles for photos.

At age 3, I was already standing at attention and making tight Marine Corps corners on my bed.

Father ruled the home with an iron fist. One of his favorite programming methods was double-jeopardy. I was caught in the cross-fire, no matter what I did. Other methods of programming included making me stand at attention for long periods of time while he gave me a "dressing down" -- a method intended to intimidate and break my will. As I moved into puberty, he began to include private "exercise" sessions, intended to add shape to my body. At high school graduation, I wore a dress he designed, fitted and sewed for me, and was made to model it while he took pictures.



After graduation, I have no memory of what I did with the dress that my father made.



Cpl. John Joseph LaBrier, Sr., 18 years old.

In 1991, I received a reply to a letter I wrote to Father about the affects his abuse had on my life. In that letter, he admitted that he had sexually abused me and told me to forget about it and get on with my life. I never heard from him or saw him again, until I raged at him as he lay on a cold gurney in the morgue at the local hospital where he died.



A few years before he died of congestive heart failure and enphasema in October 2001.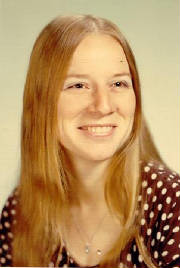 As a junior at Ball State University where I completed my BS in English.
In the Spring of 1968 I began my college training at Ball State University in Muncie, Indiana. I was among those students who hung out in the Student Union Building discussing and protesting the Viet Nam War and drinking gallons of coffee. We were hippies, I guess, outsiders watching the sorority and fraternity students on the "other side" of the Student Union cafeteria. I was beginning to feel free to express myself. I worked my way through college, graduating in 1972 with a BS in English Education and a minor in Experimental Psychology. Those four years were filled with turmoil and growth.